NEWS
March 2018, Vienna
Joan will give a lecture and join the jury at Tricky Women Festival, Vienna, Austria.


April 2018, London
Animation Club, Soho, London

September 2018, Portugal
Joan will be on the Jury of Bang Festival, Portugal, 2018.

[read more]


WELCOME
Joan Ashworth is a director and designer of animated films. She has worked in industry and academe for 28 years, directing commercials, title sequences and short films and conducting research. Until July 2015 she was also Head of the Animation Department at London's Royal College of Art. Ashworth is currently in production of a film on suffragette and artist, Sylvia Pankhurst. She is also engaged with research into animation and health advising on how animation can be a valuable tool in exploring real world issues.
LATEST MOVIE
Sylvia Pankhurst
Joan Ashworth is currently in production of an animated documentary on artist and campaigner, Sylvia Pankhurst. For more info go to locatingsylviapankhurst.com
Joan is an artist/ filmmaker/ Independent scholar whose animated films explore women's rights, meadow swimming, gothic fantasy and fertility.
From 1994- 2015, Joan headed up the internationally renowned Animation Dept. at the Royal College of Art, London. She lectures internationally on Animation and Visual Writing. Publication:
bit.ly/1J1K9Eh
Joan studied filmmaking at the NFTS and co-founded 3 Peach Animation through which she directed many commissions including the opening for Tim Burton's
Batman
1. Joan later co-founded Seed Fold Films and completed
How Mermaids Breed
inspired by Bronze Age Cycladic figures and the drawings of Henry Moore. In 2010, Joan completed
Mushroom Thief.
Joan has worked with and published on Animation Therapy, and worked with a team on
Medical research
looking at how animation can engage young patients in giving feedback on their health treatment.
Ashworth's current project is a documentary
film on Sylvia Pankhurst
, suffragette and artist, exploring Sylvia's relevance to contemporary issues.
Locating Sylvia Pankhurst
This website documents research undertaken by Ashworth to explore ways in which documentary film can be employed to reassess Sylvia Pankhurst's work and methods of campaigning, calling on the possibilities of animation to unfreeze her drawings and harness new tools to help express ideas embedded in the work. This project also aims to encounter Pankhurst through hearing from those who knew her and worked with her, including original interviews with her son Richard.
March 2018, Vienna
Joan will give a lecture and join the jury at Tricky Women Festival, Vienna, Austria.


April 2018, London
Animation Club, Soho, London will host Joan in April, 2018.

September 2018, Portugal
Joan will be on the Jury of Bang Festival, Portugal, 2018.
---
Key-note lecture, Portugal. July 2017
Joan gave a keynote lecture on Visual Writing at the International Conference on Illustration and Animation, CONFIA. .

The lecture reflected on Ashworth's collaborations with writers to explore the material of imagination. It delved into ways of exposing furtive or fragmentary thought and ways of working into this (im)materiality to make a coherent, expressive, tactile and engaging whole. Joan drew on her work with writers Deborah Levy, Peter Blegvad, Russell Hoban, Marina Warner and her use of visual mind maps and props to interrogate ideas. This lecture was published in the accompanying proceedings.

Links:
confia.ipca.pt
deborah-levy.com
leviathan.co.uk
russellhoban.org
marinawarner.com

September 2016
Joan Ashworth presented her work and that of her students at the Royal College of Art, at Animation Volda Festival, 10th Anniversary, Norway.
---
Ashworth presented her paper, Suffragette Prison Experience: accessing archive texts, artefacts and objects and representing and re-enacting through film and animation, at the Women's History Network Conference 2016, Women's Material Cultures/Women's Material Environments, Leeds Trinity University, Leeds UK.
---
2016 presentations
In July, Ashworth presented her reflections on Northern Light and Landscape in her paper: Waterlogged shudder: Animated Lancashire landscape, at the Northern Light conference hosted by the Photography group in the Department of Media Arts and Communication, Sheffield Hallam University
northernlight2016.wordpress.com

In April, Ashworth gave her keynote presentation, Shudder, Flicker, Shift, on designing a Masters Animation Course and experience of directing independent commercial animation, at Lusofona University, Lisbon, Portugal. The event was co-ordinated by Pedro Serrazina and hosted by the Cinema and Arts Media Department at the University. www.ulusofona.pt/eventos/lusofonanima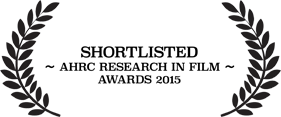 10 November 2015 - How Mermaids Breed shortlisted for the Arts and Humanities Research Council (AHRC) Anniversary Research in Film Awards. The awards are "designed to recognise the creative and innovative work being undertaken at the interface between research and film by world-leading researchers, practitioners and filmmakers in the UK arts and humanities research community".

The winners will be announced on Thursday 12th November at a special Awards Ceremony at the BFI Southbank. To mark the shortlisting, I have put together clips form the making of How Mermaids Breed cut to a music track made for the film. and the completed film is here.
---
Blue's Song, one minute film by Ashworth was screened at One Minute Hull Artists Moving Image Festival, The Museum of Club Culture, High Street, Hull. Martin Pickles curated the programme. November 2015. www.facebook.com/groups/1037376066273319/
---
Sylvia Pankhurst documentary project
Ashworth gave a paper Unfreezing Sylvia Pankhurst at the Women's History Network Conference: Female Agency, Activism and organisation, September 2015. @AgencyFemale

And a paper Interrogating the Paintings and Texts of Sylvia Pankhurst Using Animation at the Society of Animation Studies Conference, Canterbury in July 2015, sasbeyondtheframe.com @sas2015beyond
CHILDSPLA medical research
Ashworth and the CHILDSPLA team (about the project) have now concluded the data collection and our first joint paper has been accepted for publication in Child: Care, Health & Development Journal. A 2nd paper, The Dog was Acting: Designing an animation tool to enable children and young people express their views about their health state, has been submitted. In August 2015 three members of the CHILDSPLA team, Neus Abrimes Jaune, Matt Abbiss and Joan Ashworth gave a 3 day workshop, Serious Animation, based around the CHILDSPLA project in Trinidad supported by the British Council and the University if Trinidad and Tobago. 2 NGO's, Microsoft, students, graduates and staff of UTT all participated to devise, research and test ideas for medical apps. Part 2 of this collaboration is being planned for the future.
---
Joan Ashworth with the
CHILDSPLA
team presented the panel
"What's Up Kid? Designing an Animated Tool with Children to measure how they feel"
at the Animation and Public Engagement Symposium convened by the
Animation Academy,
Loughborough, and hosted by the Bradford Animation Festival, November 2014.
---
Joan Ashworth participated in the Sylvia Pankhurst Scholars' Morning, Tate Britain, March 2014
This Scholars' Morning, coincided with the Sylvia Pankhurst display at Tate Britain, and gathered together scholars, artists and activists to celebrate Sylvia Pankhurst's work as artist and campaigner. The morning was used to explore current debates about the relationship between art and politics. The event was programmed by the Emily Davison Lodge with Tate Britain
---
Joan Ashworth worked with Editor/Filmmaker Jo Ann Kaplan on the archive findings and experiments.

[previous] [next]
Ashworth attended the Clermont Ferrand Short Film Festival, France as part of We Are UK Film, February 2014, supported by the British Council.

---
Joan Ashworth delivered the keynote lecture, "Designing Animation tools to enable health assessment sharing by young patients and clinicians" at Animation On Prescription Event, Encounters Festival, Bristol, in September 2014.
Ashworth discussed her current interdisciplinary project, CHILDSPLA: an innovative collaboration between the London School of Hygiene and Tropical Medicine, Great Ormond Street Hospital and the Royal College of Art, London.

The team are developing an animated app to measure the health states of children. For example, the app asks the child "On a scale of 1-5 how much pain are you in today?" but rather than text or voice, the app shows animated representations of pain, sleeplessness, and annoyance etc. Ashworth discussed the importance of artists/ animators and children being involved in medical research and reflecteed on the challenges and knowledge emerging during the first year of the Medical Research Council funded project. childspla.lshtm.ac.uk/about-the-project

---
How Mermaids Breed by Joan Ashworth was shown as part of The Perfect Place to Grow: 175 Years of the Royal College of Art. The Perfect Place to Grow: 175 Years of the Royal College of Art provided a fascinating insight into the world's oldest art and design school in continuous operation, revealing the politics and polemics behind the question of how Britain should train artists and designers, and interrogating the purpose of publicly funded art schools. The exhibition featured work by RCA faculty and alumni according to four principal themes: 'Art for Industry'; 'Public Purpose'; 'Personal Expression'; and 'Political Expression' and ran form November 2012 – January 2013 .

[
previous
] [
next
]
Solargraphs
by Joan Ashworth and Deborah Coates Tyler showed as part of OpenHouse London 2012
at Cambridge House, Camberwell, London SE5 0HF 23rd September 2012.

Solargraphs are unusual photographs, taken by means of a pinhole camera. The sun's movement over a six month period can be re-coded into a single image. The images are taken from summer to winter solstice to get the highest and lowest points. Some of these images in this exhibition were taking during the refurbishment of Cambridge house and traces of scaffolding and lost views are captured.

---
Mushroom Thief and How Mermaids Breed were screened as part of Into The Woods curated by the eminent writer and mythographer Marina Warner at the Deloitte Ignite Contemporary Arts Festival at the Royal Opera House.
September 2010


---
Mushroom Thief screened at
Moves-International Festival of Movement on Screen
, Liverpool, UK.
The theme of the festival was INTERSECTIONS: Filming Across Culture and Technology
Moves11 is a unique festival with selected art works that will celebrate outstanding experimental and innovative video works. April/ May 2011.
[
previous
] [
next
]
Mushroom Thief was screened as part of Painting with Light Contemporary, experimental and animated short film programme. November 2010 Cafe Gallery, Southwark Park, London, SE16 2UA.
---
"Mushroom Thief" screened at Ottawa International Animation Festival, Canada October, 2010
www.animationfestival.ca


[
previous
]